We are a startup
focused in the
natural gas
downstream
industry
"Mira Gulf Methanol Corporation, through its Integrated Project Management Team, Licensors and Contractors will design, build and operate one of the most competitive world-scale methanol plants with the highest focus on achieving zero harm to people and zero environmental incidents."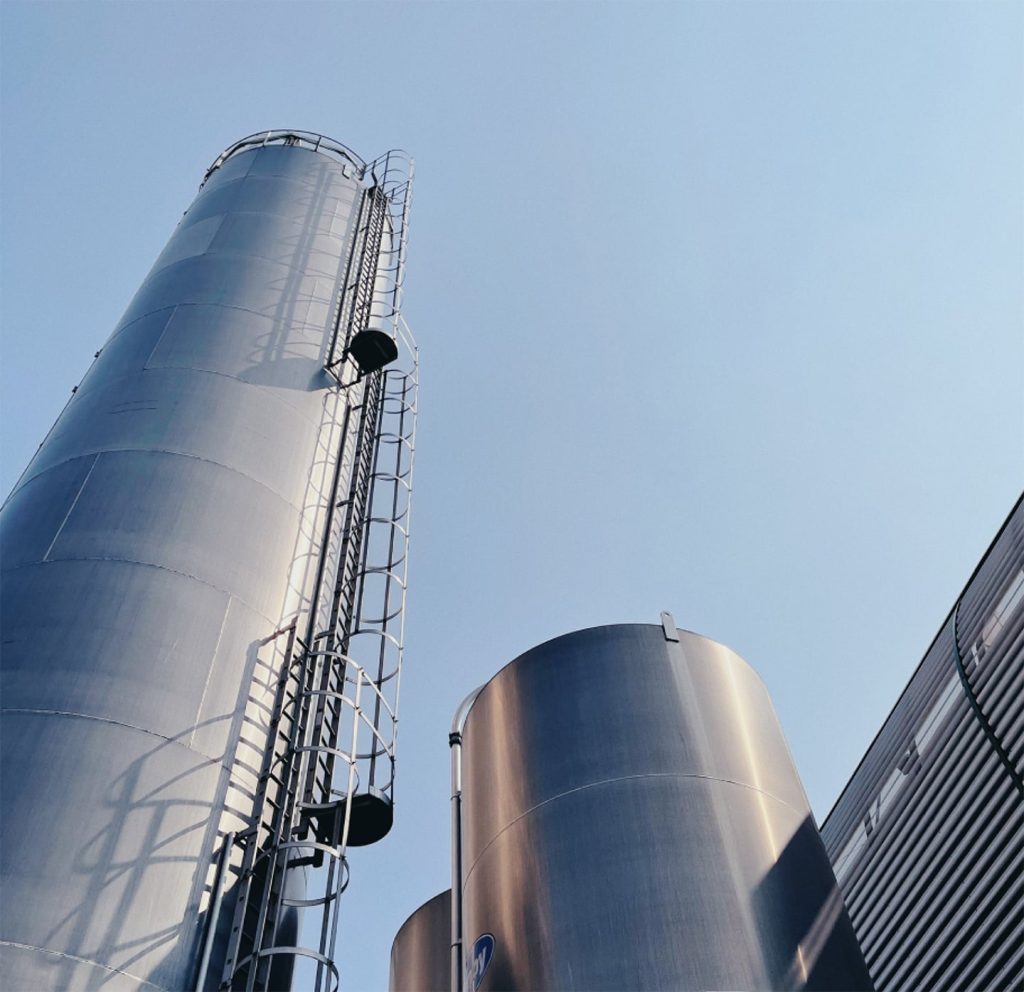 Project Description
---
Mira Gulf Methanol Corporation's (MGMC) proposed methanol plant will produce 360,000 tons per annum and will be in the port of Altamira, Tamaulipas, Mexico.
The project's design will leverage proven Lurgi technology to convert natural gas to methanol on a safe and low-cost basis.
The proven technology will be supplemented by an industrial port infrastructure, that supports all feedstock and offtake requirements, and a low cost environment to make the project highly efficient and competitive. The project is expected to make Mexico a net exporter of methanol.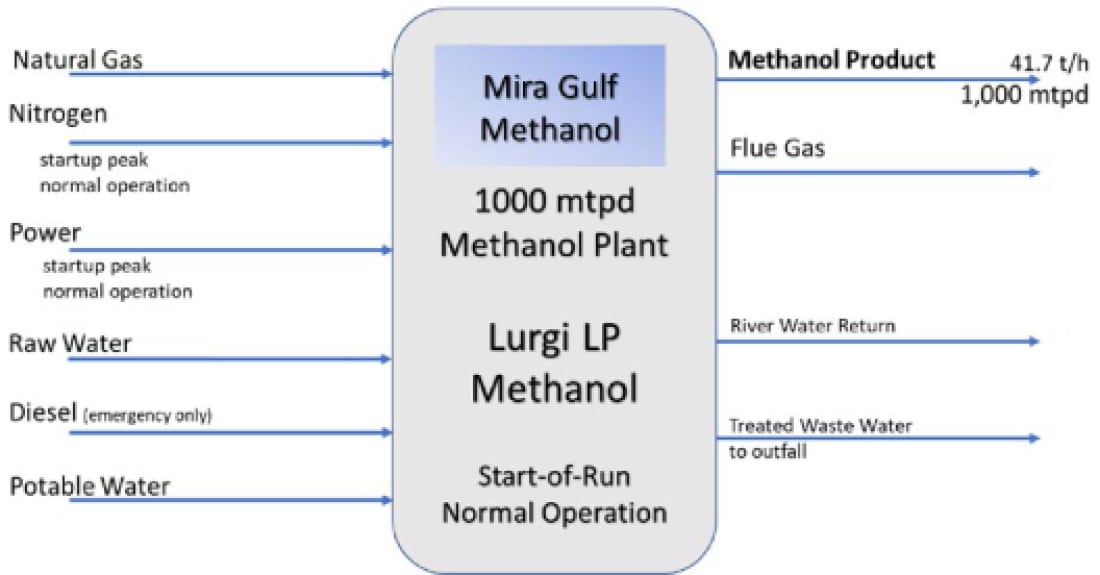 What is Lurgi Technology
---
Lurgi MegaMethanolTM converts syngas derived from any carbonaceous feedstock into raw methanol using a two-step reactor process. This reliable technology offers minimized production costs at maximized capacity. Large capacity. Reduced costs. A Lurgi MegaMethanolTM unit may feature integrated syngas generation from natural gas or it may be downstream of a gasification unit. In both cases, the feedstock (natural gas or syngas) is passed over a copper catalyst in a two-step synthesis process involving water-cooled and then gas-cooled reactors. The two stage reaction process allows low recycle ratios leading to reduced equipment size and therefore large single train capacities. The resulting raw methanol product is then distilled further to meet customers' required specifications.
Lurgi MegaMethanolTM offers very low production costs thanks to the unit's high energy integration and low recycle ratio in the synthesis loop 1.
What is Methanol used for
---
Methanol is a chemical building block for hundreds of everyday products, including plastics, paints, car parts and construction materials. Methanol is also a clean energy resource to fuel cars, trucks, buses, ships, fuel cells,
boilers and cook stoves 2.

As summarized in the following image, the end use of methanol can be divided into two categories: chemical related and fuel/energy related applications.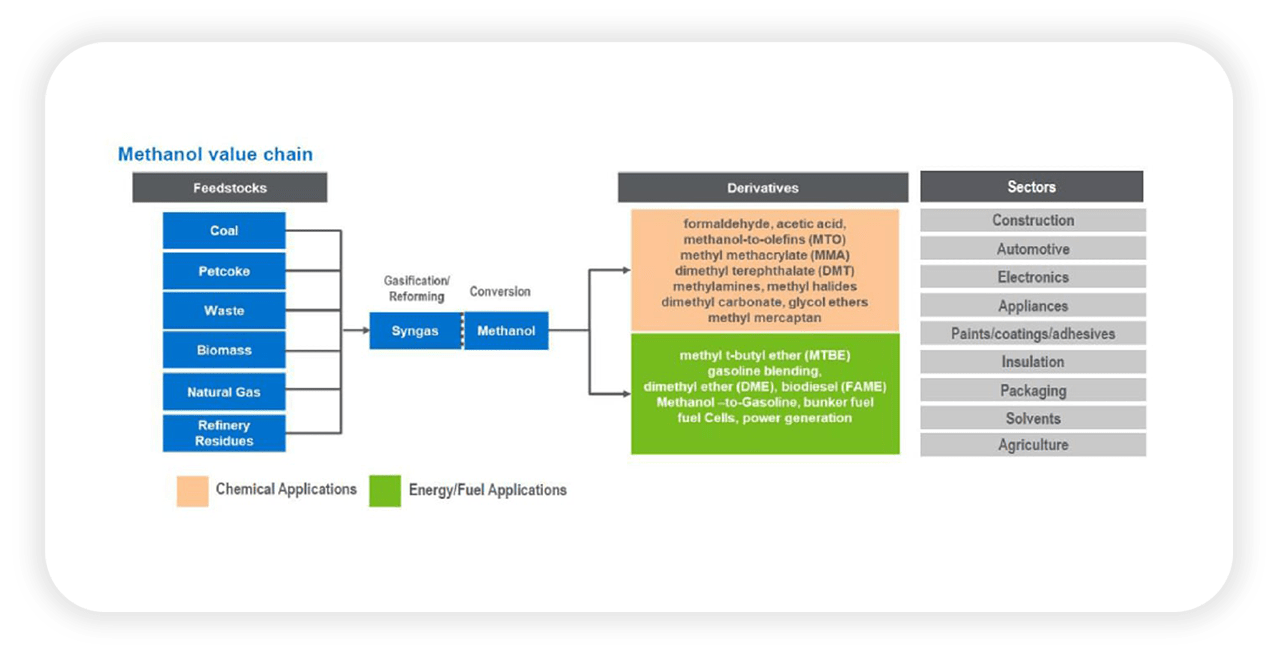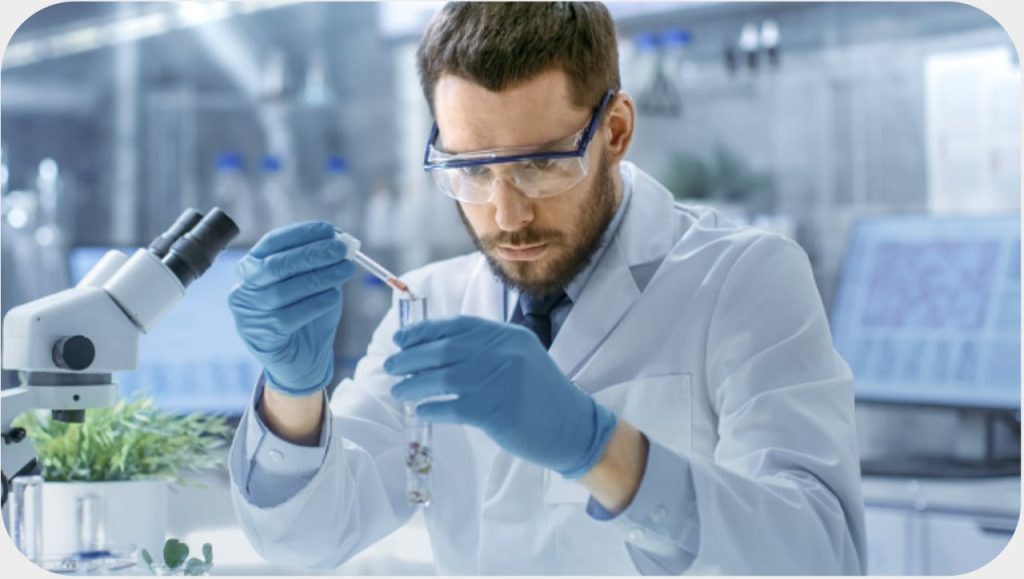 Methanol is made primarily from natural gas. It's a base material in acetic acid and formaldehyde, and in recent years it is also increasingly being used in ethylene and propylene. Mixing methanol with substances like these enables it to be used as an intermediate material to make literally thousands of methanol and methanol derivative products used in practically every aspect of our lives.
Methanol and its derivative products such as ascetic acid and formaldehyde created via chemical reactions are used as base materials in acrylic plastic; synthetic fabrics and fibers used to make clothing; adhesives, paint, and plywood used in construction; and as a chemical agent in pharmaceuticals and agrichemicals. Its endless myriad applications have made methanol ubiquitous in our lives and throughout society.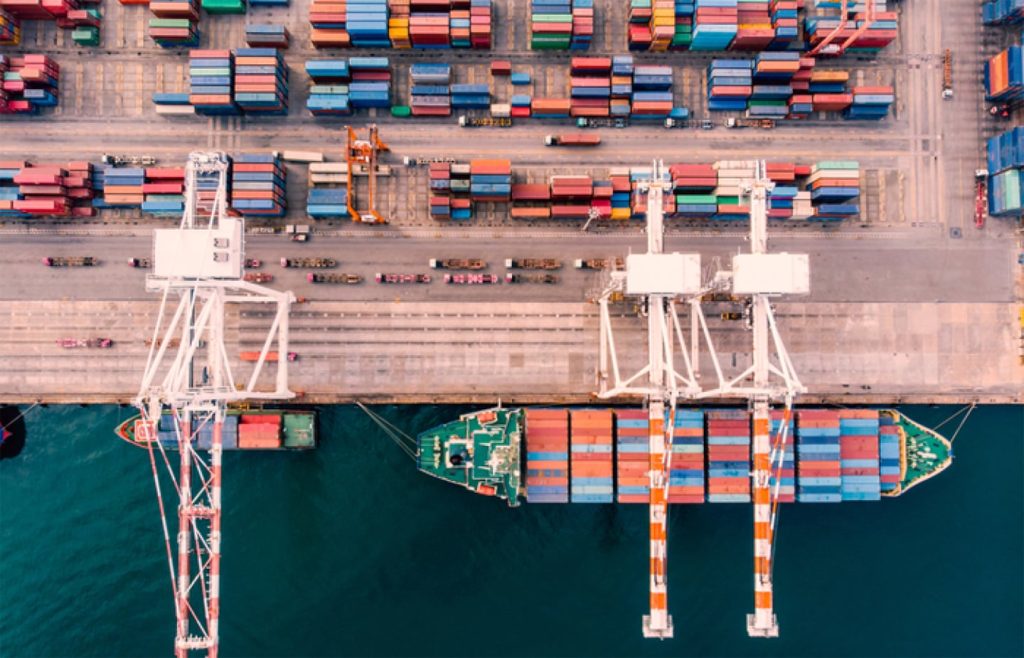 Strategic Location
The Port of Altamira is strategically located within the Tampico metropolitan area in the state of Tamaulipas. The port has a geographical size of 7600 acres, out of which 4385 acres are destined for developing terminals, navigation channels, port projects and future expansions. Currently the Port is properly equipped to handle a wide array of general and specialized cargo; its draft is 40 ft. which allows to receive all type of maritime vessels and has a projected draft that will reach 50 ft.
---
Main Productive Areas in our Industrial Zone
Petrochemical
Electricity Generation
The market Environment
---
ENHANCED MARKET CONDITIONS IN MEXICO CREATE THE IDEAL ENVIRONMENT TO SUPPORT INVESTMENT GAPS IN THE CHEMICAL SECTOR: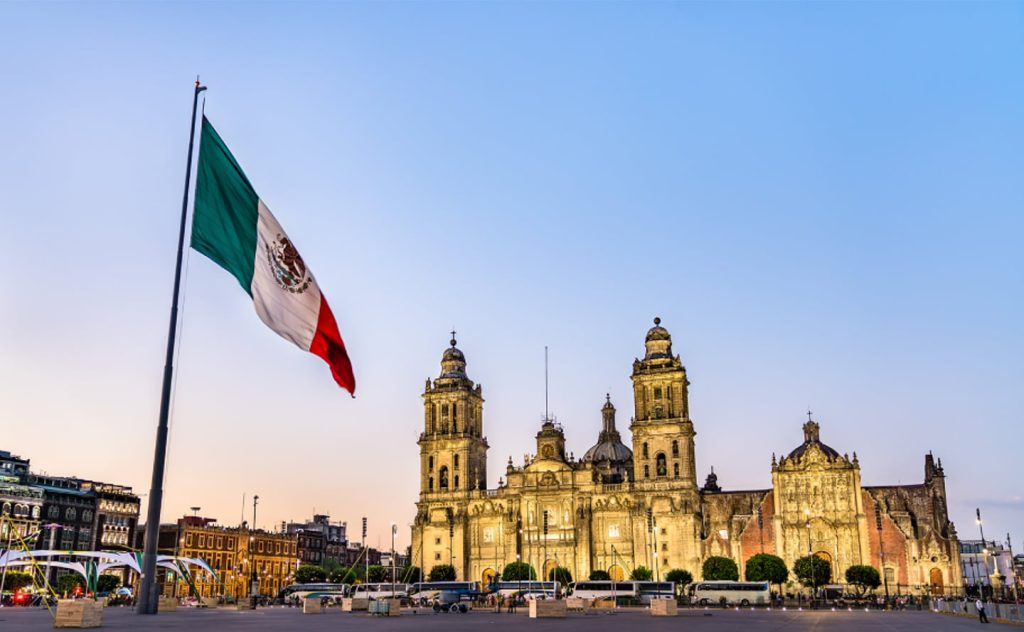 Regulatory / Government – modern regulation.
Mexico has a domestic consumption of 250 KT methanol but can only self-produce 120kt.
MGMC seeks to complement existing domestic production to make Mexico self-sufficient in its supply of methanol.
MGMC's remaining supply will make Mexico a net exporter of methanol.
An optimally sized methanol manufacturing facility, leveraging gas to chemical economics and low-cost production structure to capture net import demand and balance the trade for methanol.
Feedstock – Maturity of licensed fields via energy reform have produced incremental gains in domestic gas production.
Feedstock – South Texas shale basins and investments in gas gathering systems to Mexico will continue to supply the country. Mexico is a net importer of approximately 2 Tcf of dry gas, annually.
Demographic profile of labor resources – Altamira region has a total population of 706,000 with 56% between the ages of 15 and 44.
White Paper on Methanol and Green Methanol
---
Global Warming, Hydrogen and Methanol.
COP26 sets a new target for managing global warming escalation curve thus requires significant investment in reducing greenhouse gases (GHG) emission by
50% by the end of 2030-2035 and enhance decarbonized economy.
Hydrogen, Methanol and Ammonia play important roles in achieving COP26 goals. Hydrogen can be an effective fuel for global mobility, in particular for road mobility, replacing a portion of fossil fuel and associated GHG emission. Other than carbon sequestration, nearly all other carbon capture and convention processes require hydrogen in the chemistry. In a decarbonized economy, Hydrogen, Ammonia and Methanol will be some of the most important chemicals to produce and use.
Hydrogen use and hydrogen chemistry for greenhouse gas reduction is the most important chemistry to receive global focus. The globally recognized use of hydrogen is in three forms: hydrogen gas, ammonia as hydrogen atom carrier (and a source of hydrogen), and methanol as hydrogen atom carrier (and a source of hydrogen). Both ammonia and methanol are viewed as the two most effective hydrogen carrier molecules to transport hydrogen. In order to enhance the hydrogen chemistry (and decarbonized economy), ammonia and methanol become very important molecules to hydrogen-based green chemistry.
Hydrogen, ammonia and methanol are also viewed as the most important clean energy fuels for future global energy demand, in particular for global mobility energy solutions.
Methanol and Hydrogen relationship
Methanol, the simplest alcohol (CH3OH) – is a chemical building block for hundreds of everyday products, including plastics, paints, car parts and construction materials. Methanol also is a clean energy resource used to fuel cars, trucks, buses, ships, fuel cells, boilers and cook stoves.
Methanol is a highly effective hydrogen carrier and energy carrier and easy to transport and easy to use.
Methanol is a highly valuable and versatile industrial chemical that can be produced from coal or from natural gases. New technology on green methanol production from biomass, from captured CO2 and conversion with hydrogen to reduce CO2 emission also is in advanced development phase.
Global hydrogen demand is expected to experience significant growth, and by the same token, total methanol demand could also be needed to double by 2030-2035 to more than 200 million from current ~100 million tons per year. The majority of new methanol capacity will come from traditional natural gas to methanol technology.
Types and Raw Material Sources of Methanol Technology.
Green methanol is from renewable carbon source and green electricity. High cost of production has not made it an economically viable option for large scale installation today.
E-methanol (another form of green methanol) is from CO2 capture plus green hydrogen (through green electricity generation) to form e-methanol.
Blue methanol. Is from either gray or brown methanol process with added carbon capture (and sequestration or conversion) processes to reduce carbon footprint and CO2 emission. At less than 1% current global capacity today, it will be slowly and surely growing in next 5 to 10 years.
Gray methanol: about 60% of global capacity installation (of over 100 million tons) with raw material coming from natural gas plus water and oxygen.
Gray methanol carbon convention efficiency is about 85%. 15% of hydrocarbon feed material is emitted as CO2 in the reaction and manufacturing processes.
Brown methanol. About 40% of global capacity installation (of over 100 million tons) and raw material is from coal, oxygen, and water. Brown methanol carbon convention efficiency is only 45% at best (55% or more carbon is emitted as CO2 in the processes). Brown methanol carbon convention efficiency is only 45% at best (55% or more carbon is emitted as CO2 in the process) and consumes large amounts of fresh water, a scarcity resource. The future is Gray and Blue methanol.
Since the days are numbered for significant new brown (coal) methanol capacity addition and in the meantime, mass scale production of green or E-methanol is still an elusive goal, natural gas to methanol production will be the only viable path to meet the global methanol demand in the foreseeable future.
When carbon capture and convention technologies become more cost effective, those natural gas to methanol plants can be quickly modified to blue methanol plants, achieve 95%+ carbon convention efficiency, and make them net-zero or near-net-zero carbon facilities.
MGMC Methanol Project
MGMC methanol project utilizes Air Liquid licensed Lurgi technology to convert natural gas to methanol. The current design capacity is 350 KT per year. This natural gas-based chemistry has a high carbon conversion efficiency (about 85%).
MGMC methanol plant could add additional carbon capture and conversion equipment to reduce or nearly eliminate the carbon footprint and convert the captured CO2 into finished methanol product. This could add another 50 kt of methanol to the total capacity and reduce about 70 kt of CO2 emission.
The resulting methanol for this combined process will be Blue Methanol. The process can be incorporated into the current design or to be added in a later stage plant modification.
SOURCE: METHANOL INSTITUTE
Management
---
MGMC's greatest asset is its management and project team who have recent and proven experience in methanol project development and delivery.
MGMC was formed by a group of senior management executives and professionals who recently completed a world-scale methanol project in the U.S. The new leadership includes Charlie Yao, James Diaz, Jerry Jones, Frank Benavente, coupled with founding investors, Ruben Lozano and the strategic Mexico law firm DEGAL. By leveraging the project experience of U.S. professionals with the local experience of our founding investors, who have an established investment history in Mexico, MGMC's mission to build a methanol plant is secure from a management and project team perspective.
---
President of Mira Gulf Methanol Corporation (MGMC)
---
Chief Executive Officer, Mira Gulf Methanol Corporation (MGMC)
---
Chief Financial Officer, Mira Gulf Methanol Corporation (MGMC)